RedwoodJs (my new love)
What is RedwoodJs and why is it my new love.
At the time of writing this post, I have now had 2 successful PRs raised and merged into the RedwoodJS core codebase. Which I think officially makes me a contributor. Look I even have a hat to prove it. :P
Hold up Aaron what is RedwoodJs?
OK, OK. Hold your horses, I will go back a little. RedwoodJs is the full-stack web framework designed to help you grow from side project to start-up and I have been using it exclusively for all my side projects since the beginning of the year (2023). I can not state how quickly you can get a full-stack project up and running with this framework.
In literally 2 lines you can have a blog up and running using their template. Just take a moment to look at this in its glory.
I think you can agree that is quick :)
This was a big thing for me. I have spent the last 15 years of my life dedicated to the art of developing the front end of products and when I first started to play around with my side-project idea (Instant-API) I needed a backend as well. Queue the inevitable search for a backend framework to use and learn. I spent around 2 weeks trying to establish what backend framework I wanted before I heard about RedwoodJs on the Syntax.fm podcast. After which I headed over to the site and followed their whole tutorial site. Then within an hour, I had all the basics of the full-stack redwood framework under my control and ready to fire up a POC. :)

At the end of the day, I was already using the whole stack that Redwood uses but Redwood has removed all the complexity of getting them all setup and working together.
Then within a few more days of tinkering, I had the first prototype of Instant-API ready to go, which convinced me that RedwoodJs was the way to go from this point forward. Here is a video I made just after that first POC phase.
Now I will be having another blog post and video on this side project soon as I have an Alpha of the product ready for everyone to test and play around with so what this space.
London Meetup
After being in the Redwood Community since the beginning of the year in a variety of ways, such as contributing to the core codebase, helping answer questions in the forums and taking part in the RedwoodJs startup programme. I wanted to give back and that is where the RedwoodJs London Meetup Group was started.
I reached out to the Redwood team and with their permission and help I was teamed up with a few other Redwood enthusiasts from London and we prepared the first of which I hope there will be many more. London RedwoodJs Meetups.
The first meetup was this past Wednesday and we had some great talks.
From Zero to One with Redwood.
This was a great talk from Christopher Burns. Co-Founder of Everfund who walked us through their journey of POC to start-up. Giving us a deep look into how Redwood enabled them to move fast.
Redwood v6 and upcoming things in v7
We were super lucky to have a Redwood core team member Danny Choudhary come over and talk about the amazing things on the Redwood roadmap.

I am super excited for Vite to replace Webpack which will speed up the start-up of running Redwood in dev mode and a new Redwood Studio that allows you to track and debug requests through the whole system. I am going to take a further look into the studio and make a YouTube video on it.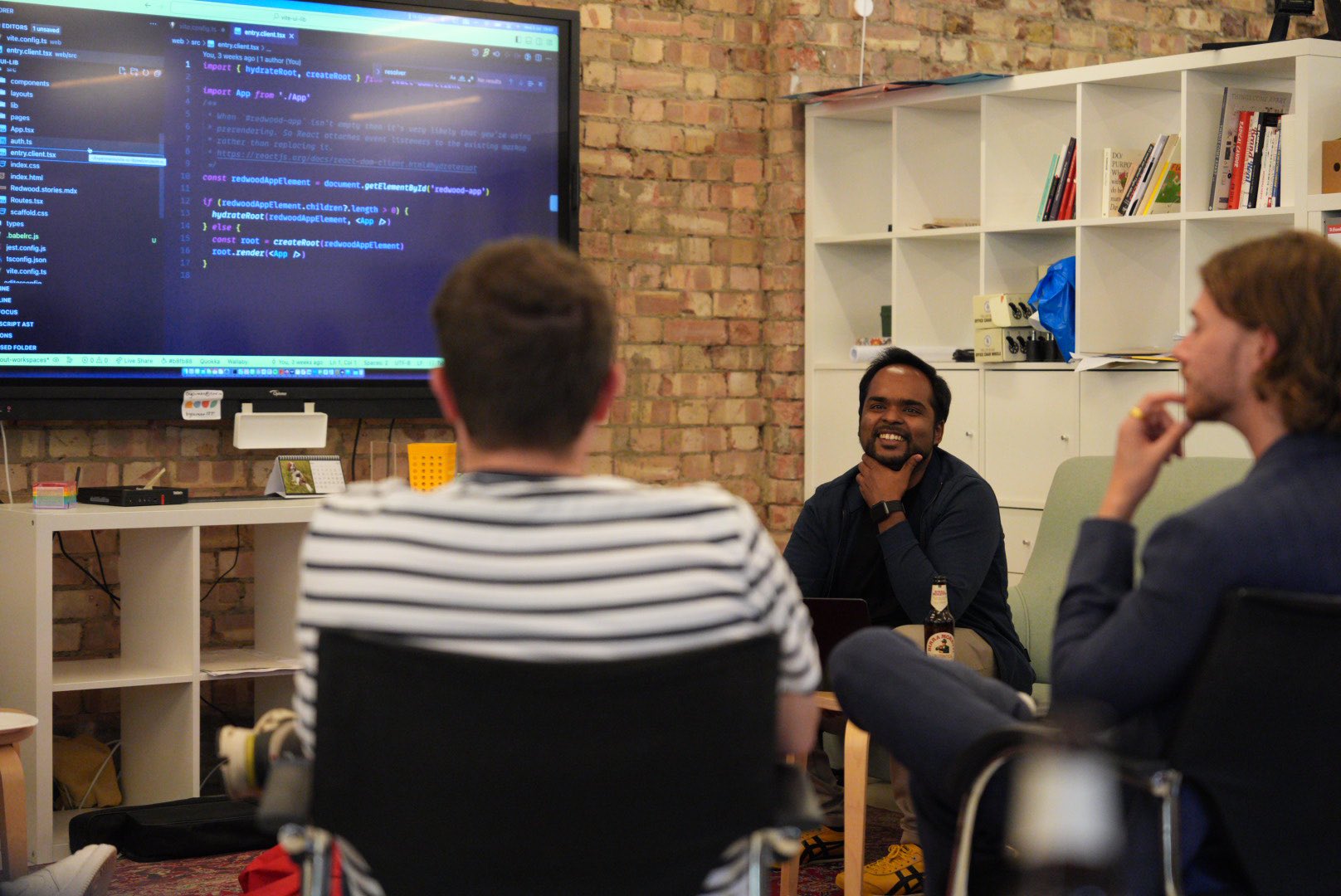 Our Journey with Temporal
Then last but not least one of the engineers (Ján Stehlík) from our host for the event Nous.co talked us through how they use Temporal and how that integrated with Redwood.

For me, this was a great talk as I had not come across Temporal before and I really can not wait to integrate it into my side project. This is also something I want to do a YouTube video on.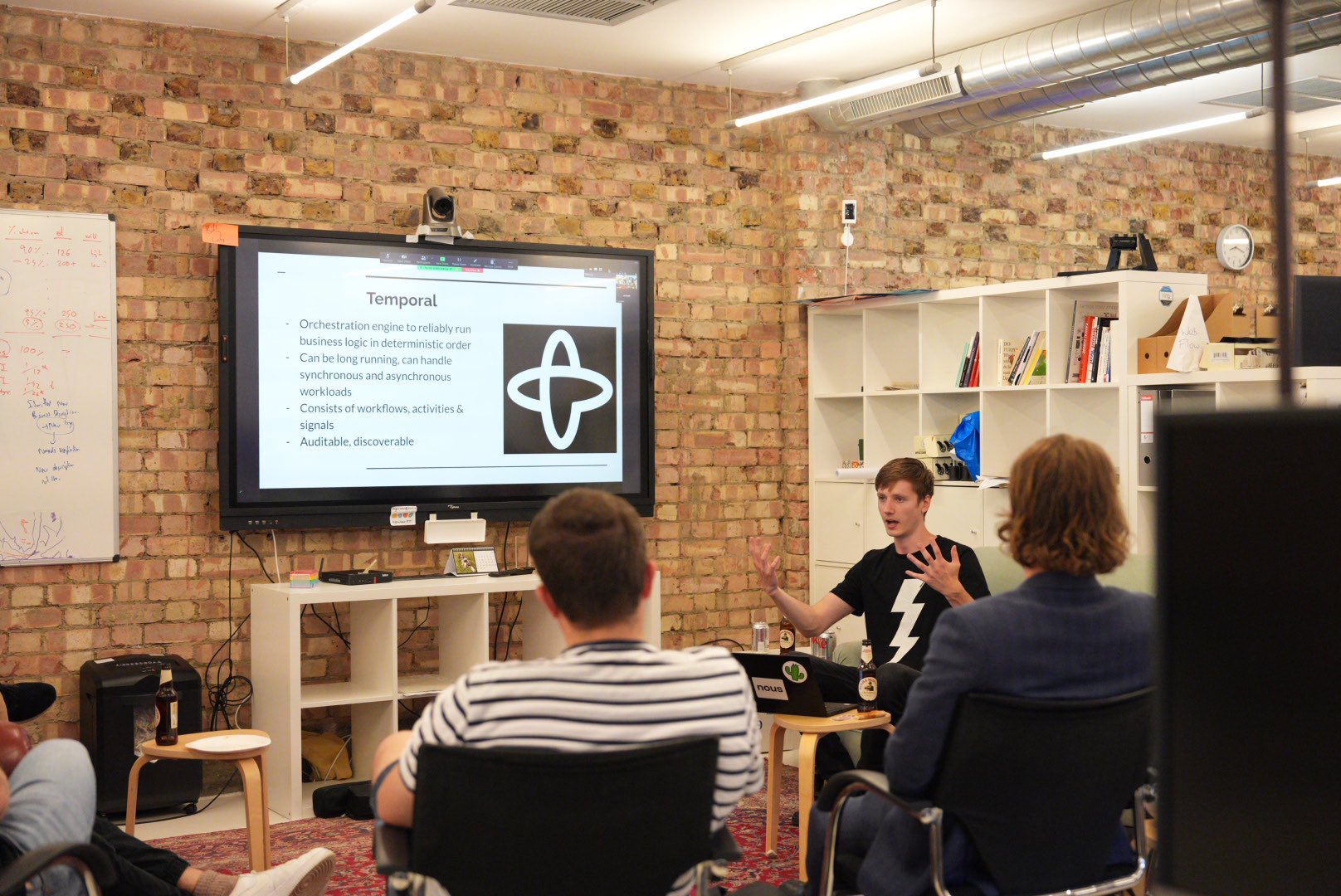 Overall I think the event was a success and I and the rest of the team who organized the event left buzzing, wanting to start planning the next one asap.
If you would like to keep up to date with the events we have planned, head over to our page on guild https://guild.host/redwood-london/events and make sure to join our guild.
So what's next?
For me, Redwood will not be going anywhere anytime soon. I am sold on its core idea, its implementation and the community that is growing around it.
I will continue to use it as I build out Instant-API and I will continue to support it in any way I can.
Let me know on Twitter @aaron_rackley if you have used redwood and I hope to see you at the next meetup.